Jesus of Bradford: Christian eccentric in robes and sandals dies
THE remarkable story of the Christian eccentric who died this week after becoming a familiar sight on a city's streets for half a century dressed in robes and sandals.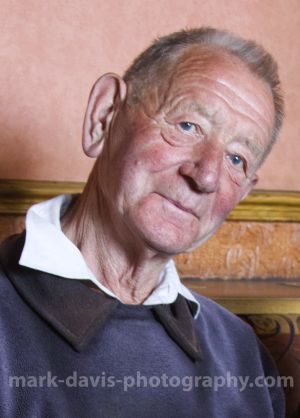 FOR more than 50 years Geoffrey Brindley was a familiar figure walking around Bradford and its environs.
Always dressed in what looked like a dark blue-grey habit, with a small satchel slung around his neck and sandals on his feet, whatever the weather.
He walked fast and spoke little but had a smile and wave for everyone and, if they wanted it, time and company to share.
He appeared to possess nothing other than the clothes he stood up in and had no desire to change that state of affairs.
Few facts but much speculation swirled around him. Was he mad, bad or sad? There were rumours of a wife and children abandoned long ago or lost in some unspecified tragedy. Among the locals opinions of him varied.
Some thought him someone to be wary of, some that he was merely eccentric.
Others thought he looked beatific and dubbed him Bradford Jesus Man and started a website to monitor his wanderings throughout West Yorkshire.
But his death this week at the age of 88 has swept away all divisions.
The book of condolence in Bradford Cathedral is filling up with as many contributions from Muslims and Sikhs as there are from Christians and the nonreligious.
A campaign is under way to erect a statue in his memory and local rapper Leejay Roverts has composed a special musical tribute.
Expat Bradfordians have been sharing their memories of him online. "I remember quite vividly how he used to wave to me when walking up Boothtown Road in Halifax back in the 1960s.
"It always gave me a feeling of wellbeing and joy.
"I don't know why but it did and for that I will always be grateful," wrote Grahame Chapman, now living in Sarasota, Florida.
An online campaign calling for the so-called Bradford Jesus Man to become an Olympic torch-bearer has now been joined by nearly 23,000 people.
The Facebook group wants to nominate Geoffrey Brindley, also known as the Airedale Monk, for the honour ahead of London 2012. The campaign, started last month, had attracted 22,746 members by the weekend.
Mr Brindley has been roaming the streets of the district in a brown robe and sandals since the 1960s.
The Telegraph & Argus reported in 1960 how Mr Brindley, then 33, gave up his job as a machinist to live in a cave near Settle in order to receive a message from God. He spent 12 days in the cave before setting off back to Bradford wearing a habit.
"I'd love to see not just one but a number of statues dotted around the district inscribed with the simple words, 'Geoffrey Brindley, Man Of The People, He Walked, He Smiled, He Waved'."
And from Kenneth in Malaysia there was: "I personally always felt it was my lucky day when I saw him and gave him a wave."
There's no denying it: Bradford is in mourning. But for whom? A man whom many could identify but very few – if any – actually knew.
What is known about the late Geoffrey Brindley is that he was not a Yorkshireman at all but hailed from Buxton, Derbyshire and moved to Bradford to work as a machinist at the International Harvester tractor factory.
One day back in 1960 when he was 33 Brindley announced that God had informed him that the world was soon to end.
He then retreated to a cave near Settle, North Yorkshire, where he stayed meditating for 12 days.
When he emerged he set off walking… and just kept going.
He had no money and relied on the kindness of strangers for meals and shelter.
Ishrat Saleem recalls his father inviting Brindley home for meals in the late-60s: "My dad said Brindley was a spiritualist and wanderer. He had long hair then. A lovely man, always happy."
Another family invited him for Christmas every year until 1985 and his friend George Armstrong offered him a home, rent free with him in Baildon, a Bradford sleeping in a hostel 25 years ago.
Jan Bostock recalls Brindley giving her half a sandwich and comforting her as a 10-year-old when he saw her crying in the street.
Years later Jan came across him in Skipton and gave him a lift to Shipley.
Even when he qualifi ed for a state pension Brindley relied on good will and generosity.
He would walk into a shop or café, pick up an item and look questioningly at the shopkeeper. He was rarely asked to pay.
Though friendly and approachable Brindley remained an enigma. When asked why he lived as he did Brindley replied, "I like walking" or more cryptically, "I'm looking for an answer."
When local journalists came seeking interviews he would run away. When admirers wanted to nominate Brindley to carry the Olympic torch he subsequently declined.
In his younger days however Brindley was rather more of a hothead and twice fell foul of the law.
The first time he was locked up for trying to prevent people from entering a bingo hall, supposedly to save them from the sin of gambling.
A religious studies teacher bailed him out.
On the second occasion he was jailed briefly for protesting outside a Beatles concert at the Alhambra theatre.
Those minor infringements apart Brindley seems to have offended no one else in a life of biblical simplicity, not to say austerity.
Two weeks ago he suffered a stroke at home and was admitted to the intensive care unit at Bradford General Hospital where he died on Monday.
Was Bradford Jesus Man a modern saint, trying to spread love and do good where he could?
Who can say? But he certainly did no harm and that is already more than most of us can claim.
http://www.express.co.uk/news/obituaries/601081/Jesus-Bradford-Christian-robes-sandals-Geoffrey-Brindley